Eiffel Software announced today that its Integrated Development Environment (IDE) EiffelStudio, a comprehensive suite of tools enabling programmers to produce correct, reliable, and maintainable software systems while retaining control of the development process, was awarded the Capterra Best Value Badge.
"For 35 years Eiffel Software has worked closely with its customers to provide them efficient development tools. The positive reviews that our customers have posted for EiffelStudio on the Capterra website have filled us with pride" says Greg Soulages, VP of Sales at Eiffel Software. Receiving the Capterra Best Value Badge brings us another level of recognition by an organization that has a long experience of product evaluation. We invite you to download and try EiffelStudio today and experience its power!
EiffelStudio is based on the Eiffel programming language, the most extensive implementation of O-O concepts, standardized through ECMA and the International Standards Organization. Its core concepts, native only to Eiffel, such as Design by Contract™, seamless development, automatic testing, void safety, parallel programming, and modelling facilities allow developers to write predictable and controllable applications that are easy to maintain. EiffelStudio, which received the prestigious ACM Software Systems Award, is used by developers and design-team leaders in challenging enterprise environments in all areas of software development such as finance, health, defense, telecom and others. Applications built with EiffelStudio run flawlessly 24×7, 365 days a year.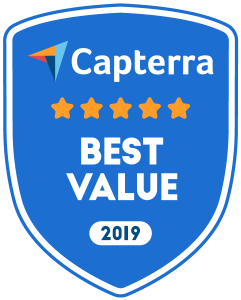 The Capterra "Best" logo is a trademark and service mark of Gartner, Inc., and/or its affiliates, and is used herein with permission. All rights reserved. The Capterra "Best" awards are determined by the subjective opinions of individual end-user customers based on their own experiences, the number and timing of published reviews on Gartner's digital sites (Capterra.com, SoftwareAdvice.com, and GetApp.com) and review ratings for a given product in the category and are not intended in any way to represent the views of Gartner or its affiliates.